Visa requirements *
Visa-exempt foreign nationals : All European Union citizens, Algeria, Andorra, Argentina, Australia, Bahamas, Bahrain, Barbados, Benin, Botswana, Brazil, Brunei, Burkina Faso, Burundi, Cameroon, Canada, Cape Verde, Central African Republic, Chad, Comoros, Congo, Democratic Republic of the Congo, Costa Rica, Côte d'Ivoire, Egypt, El Salvador, Ethiopia, Fiji, Gabon, Gambia, Ghana, Grenada, Guatemala, Guinea, Guinea-Bissau, Haiti, Honduras, Iceland, India, Israel, Jamaica, Japan, Kenya, Kiribati, Kosovo, Kuwait, Lesotho, Liberia, Liechtenstein, Madagascar, Malawi, Malaysia, Mali, Marshall Islands, Mauritania, Mauritius, Micronesia, Monaco, Morocco, Namibia, Nepal, New Zealand, Niger, Nigeria, Norway, Oman, Russia, Rwanda, Saint Kitts and Nevis, Saint Lucia, Saint Vincent and the Grenadines, Samoa, San Marino, Seychelles, Sierra Leone, Singapore, Solomon Islands, South Africa, South Korea, Sri Lanka, Suriname, Swaziland, Switzerland, Thailand, Timor Leste, Togo, Tunisia, Turkey, Tuvalu, Uganda, Ukraine, United Arab Emirates, United States, Vanuatu, Vatican City, Zambia, Zimbabwe.
Nationalities subject to visa and eligible for e-Visa online: citizens of all other nationalities can obtain their visa online (e-Visa) or in embassies.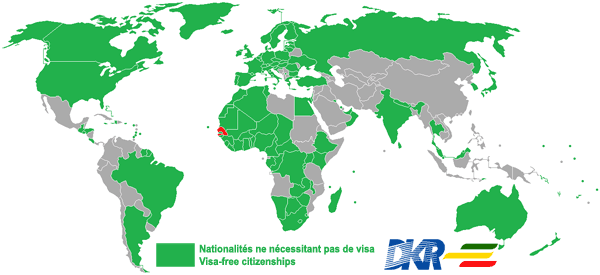 Note: a passenger who does not have Senegalese identity papers (passport or identity card) is considered as a foreign passenger even if he / she has a multi-citizenship and must therefore be in possession of a visa .